Skyrocketing property prices in recent times have raised much concern among home purchasers especially those in the middle to lower income groups. The current prices of many upcoming developments are mostly in the high end range with prices starting from RM500k up to several millions.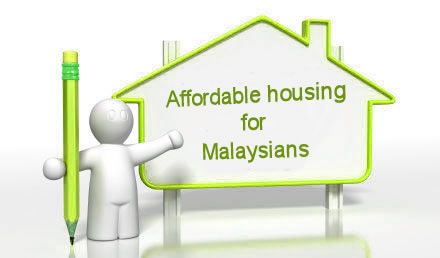 The escalating property prices have more or less prompted the call for affordable housing. In an uncertain economic environment where living costs are on the rise, affordability is the main concern for any house buyer.
For the average working group, a property unit which is sold for between RM50k and RM250k is considered affordable. Anything beyond that price will be considered out of their range of affordability due to the lower income.
Why are property prices becoming out of reach to the home purchaser? The logic is simple. Every year , the average salary increment is at a rate of about 5-10% but in comparison, property prices increase by more than 10-20% each year, double that of the salary increment. This naturally causes a disparity of income growth versus property prices, thus making home ownership unattainable to many people.
One of the reasons for the rapidly increasing property prices is due to a speculator or investor driven market. The imperfection of the current unit delivery system has seen developers selling units en bloc to investors.
Investors or property speculators are often given insider tips to property launches where they have been given priority to pick and choose the units they want to invest in. That's not all. It's often the case that they get to pick several units and get a discount too.
This practices indirectly drives up the prices of properties because when genuine home buyers seek to purchase the same property units, they would find them all sold out and are only able to purchase a unit second hand from the investors at a higher price.
There're ways to get out of this quagmire of escalating property prices. For one thing, the government has to play its role and must have the political willpower to stand firm against such unfair practices.
Under current circumstances, our government should prioritise housing projects that produce units within the affordable range of RM250k and below. Besides that, they should also monitor the unit delivery and sales technique to ensure a fair and transparent system so that home purchasers will be able to buy at an affordable price.