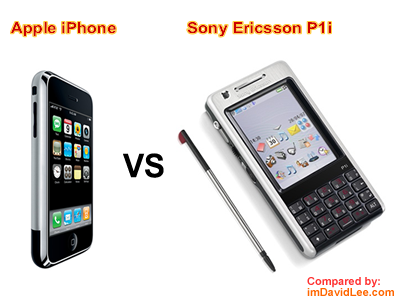 I plan to change phone at the month of May but till now still unable to make up my mind to purchase either a smartphone with Mac OS or Symbian. Just my 0.02, if you are heavier use on WiFi and Bluetooth then it sure consumes a lot of battery capacity. So if you want to go for days without recharging the battery, then you'd better go for a Symbian.
iPhone has its own uniqueness and elegant design but it is too costly. With 8GB cost approximately RM2250, 16GB cost RM2650. Whereas current market price of SE P1 is about RM1860 with Original Warranty but if goes for AP set, then price would be around RM1200. Hence, I will go for P1 temporary.
However, SE P1 is not the latest phone and it launched quite some time ago. Actually, im Sony Ericsson Fans and always opt for SE phone due to the powerful audio output and more lightweight. P1 is really well built using high quality material and it uses more expensive plastic than M600. So, I'd even say that it's a good choice for those who like to show off. Haha…
The P1 has 160 MB of internal memory and comes with 512 MB memory card. I'd recommend to install most of 3rd party applications on the memory card and keep the internal memory free for messaging, as the messaging folder cannot be moved to the memory card.
I heard people said that the only restriction is the booting of the system takes too long, is it true?
What about you? Kindly suggest me some ideas.