I strongly believe that there are still a lots of Digi user do not know that there has a great opportunity to send free SMS from Digi site to a mobile phone everyday. Yet, this is limited to only 3 SMS per day and you are restricted to send to Digi number only. For me, it's better than nothing and it's still considered a great deal.
What Should I Do To Get DiGi Free SMS Everyday?
I suggest to any Digi user to go Digi Site and register their number there. Then you will get a login password through your handphone within few seconds. Login with your mobile number and password then you can send up to 161 supporting characters per SMS.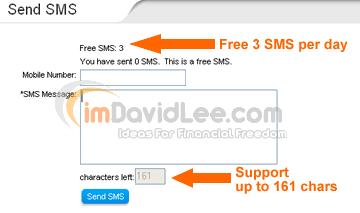 What Terms & Condition Should Be Followed?
Just one PC and Internet connection only. So, if you frequently deal with PC during working time then it's better to train yourself to make use of free 3 SMS given by Digi everyday.
Note: Do not send more than 3 SMS using Digi site as it will charge you RM 0.10 per SMS.