It has been a while since the last invited review. At first, I would like to thanks Pavilion Cafe and Criz Lai for making the arrangements.
Pavilion Café is an old fashioned Chinese interior coffee house which is just located at the opposite of Kwang Wah Yit Poh Press Bhd, Georgetown. It offers a variety of service and amenities to suit the individual needs. Cafe, resting area, family room, are some of the facilities on offer. The boss there is very friendly and the place is suitable for get-together, chit chatting and relaxation as it is cozy enough.
Before we started having the dinner, each of us had a chance to look and feel of the 5 new Ninetology models such as Ninetology U9R1, U9X1, U9Z1, U9Z1+ and Ninetology Stealth 4X. My most preference would be the Ninetology U9Z1+ as it comes with a very high camera quality which is good enough for photo shooting when the DSLR camera is not with me.
Besides that, I also received 2 complimentary movie tickets which is sponsored by Ninetology Marketing Sdn. Bhd. There's always a gift when attending the Ninetology event. Hope to see more upcoming events soon…:P
If you would like to know each individual model in details, please follow the links as below:
U9 R1: http://www.ninetology.com/u9/products/r1/
U9 X1: http://www.ninetology.com/u9/products/x1/
U9 Z1: http://www.ninetology.com/u9/products/z1/
U9 Z1+: http://www.ninetology.com/u9/products/z1plus/
Stealth 4X: http://www.ninetology.com/malaysia/products_smartphones_stealth4x.html
Also, you can do some comparisons on pricing and features before making decision to buy one that really suits you. Please refer to this site: http://www.facebook.com/NinetologyMalaysia/app_478239202210523
Lastly, you can subscribe to the latest Ninetology news to get more latest updates on the product:
After finished playing around with the phones, we're served with a variety of food & beverages.
Yellow Duck Rice (RM10.90)
This yellow duck rice looks great but it lacks flavour. As you can see, the rice is cooked with dried raisins served with potatoes, carrots and onions. I think is because of the braised vegetables do not complement the rice that well.
Caramel Macchiato Ice (RM9.90)
It serves with a beautiful sight (with coffee art) and delightful to sip on. The taste is great.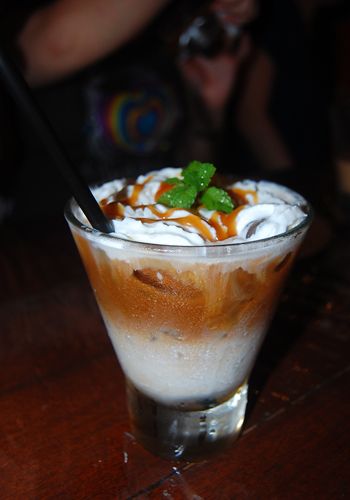 Rose Latte Ice (RM9.90)
It is just like a normal latte except for some wisps of rose on top. It is one of the best selling drinks and their signature drink. In term of taste, it brings neither too bitter nor too sweet. So, it's suitable for most of the people.
Chinese Steamed Bun with Fried Char Siew (RM 10.90)
The set comes with 3 steaming buns. To be frank, these steamed buns just didn't impress me much. Give me an old-fashioned of char siew bao, as it just doesn't seem to rock my tastebuds at all.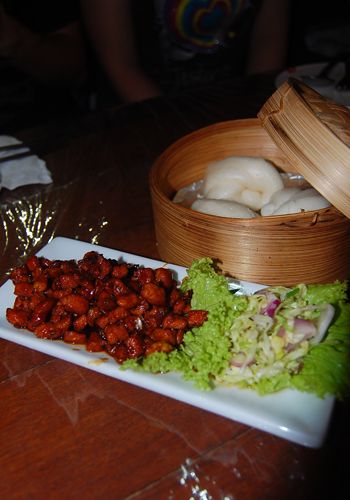 Kung Poh Century Egg (RM10.90)
It has a very unique chewy texture which has a touch of vinegar. The dish comes with some Pork, Onions and some Cucumbers. However, I would more prefer if the dish can be slightly spicier.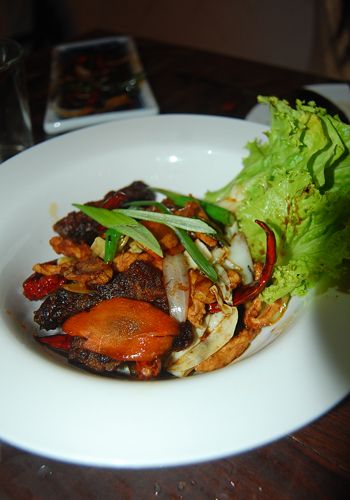 Taiwanese Classic Fried Spaghetti (RM10.90)
It's definitely hit the top notch for that evening. What makes it special was the sauce used gives the noodles great flavor and well aroma. Very reasonably priced!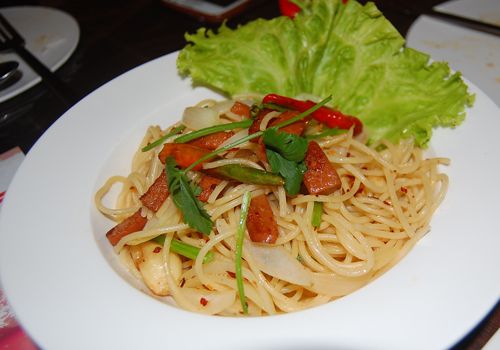 Classic Fruit Ice Tea (RM8.90)
It is a perfect pick-me-up especially on a warm day.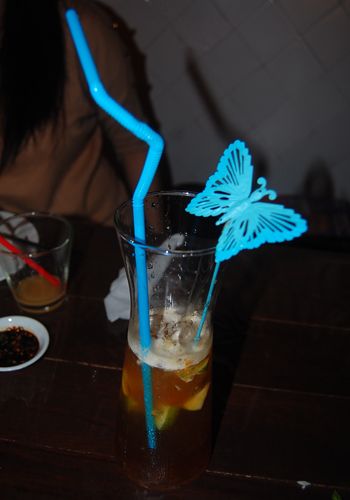 Ratings:
Taste: 7/10 (1-3 bad, 4-7 average, 8-10 good)
Price: 7/10 (1-3 expensive, 4-7 average, 8-10 cheap)
Service: 7/10 (1-3 bad, 4-7 average, 8-10 good)
Ambiance: 8/10 (1-3 bad, 4-7 average, 8-10 good)