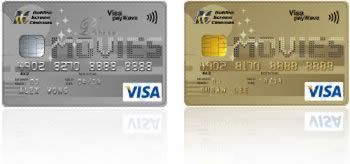 How frequent do you go to watch movie at Golden Screen Cinema? Sign up the GSC-EON Bank Credit Card; you can get 1 Free GSC Movie Ticket and small popcorn combo set upon approval. And, with GSC-EON Bank Credit Card, you can enjoy 10% discount when you purchase GSC movie tickets. For your information, tickets for adults under RM10 will get a 50-cent discount.
The movie tickets discount is as below,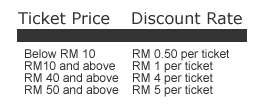 Besides, you can purchase the GSC Movie Tickets with hassle-free since you have the privilege for GSC outlets priority ticketing lane. So, you can skip the long queue in cinema during weekend. Save your time!!!
Furthermore, you will enjoy up to 15% discounts if you dine in at Glitters Café, Paradiso, Café Caro & Dessert Bar.
Weaknesses of GSC EON Bank Credit Card
Basically, there are terms and conditions applied and it's not exclusive for this GSC EON Bank Credit Card.
– Priority Ticketing Lane. But, it's only available at selected GSC outlets only.
– 10% discounts. But, it's not applicable for Wednesday pricing, and Film Festival tickets.
– 50% OFF ticket purchase up to RM100. Only applicable to New-To-Bank Principal EON Bank Group Cardholders. Not a great news for current EON bank credit card holder.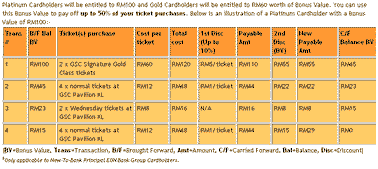 – FREE 1 GSC Movie Ticket & Popcorn Combo. But, the offer valid once only which is upon approval of the credit card application.
So please ensure that you read and fully understand on all the terms and conditions before you go for the GSC EON Bank Credit Card application process.
Movie Lover Still Worth To Apply
The annual fees for the first year is waived and subsequent year annual fee will be waived if you spend at least 24x transaction on your Gold Card and 36x transaction on your Platinum Card over the preceding 12 months.
If you are a movie lover, and you do go to cinema on average 2 or 3 times per month, then the annual fees will be waived every year just by purchasing the movie tickets.