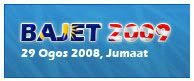 Budget 2009 is to focus on helping people cope difficulties caused by high fuel price and food price. But for me this is a budget tailored for civil servants only.
As you known, for those who are smoker always will not be good news when new announcement is made. It is increased by 3 cent from 15 cent per stick to 18 cent per stick. For a 20-stick pack of cigarettes is now increased by 60 cent. It's nothing special actually because smoker, gaming related industry already prone to tax. It's meant to discourage people from these activities.
For those who retire and pension had served at least 25 years upon retirement, will receive a pension of not less than MYR720 per month, effective from Jan 1 2009.
For those with taxable income of MYR35k and below, the current tax rebate of RM350 per person is increased to RM400. For those beyond this income group, so they will not get any advantage.
Tenure of new housing loans extended from 25 years to 30 years. Housing loan facility for renovation works on houses will also be provided.
A bonus of 1-month salary or a minimum of MYR1k will be paid to all civil servants.
Reduce toll charges by 50% for all buses, except at border entry points effective 15 Sept 2008.
Reduce import duties on various consumer products from between 10% and 60% to between 5% and 30%. These include blender, rice cooker, microwave oven and electric kettle. I feel sad for those local company who produce these stuff because public always prefers imported than local made.
For those who have monthly electricity bills < MYR20 will not have to pay for electricity usage fees, for the period from 1st Oct 2008 to end of 2009. IMO, this is exclusively for those people who rarely stay at home or home without refrigerator, TV, fans and less lamps. And this will benefit to small portion of Malaysian, like Sarawak and some rural areas where they only needs lights and TV.
MYR20 means usage of only 92 units of electricity per month.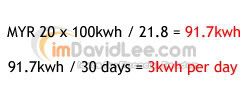 So, No Fridge, No Air Conditioner, No Ironing, No Washing Machine, No Cooker, No Kettle, No Oven, etc
When you practice the followings, then you are entitled to get the free electrical bills: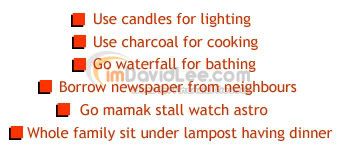 If BN really got intention to reduce public burden, they should give MYR20 discount and not this. The budget is a load of rubbish, nothing to cheer about for the average income people.
Our Prime Minister did not come up with better idea to help people cope with increase in living cost resulting in the hike in fuel.