It is convenient for you to make PTPTN repayment now. There is lot of Internet banking that you can select from such as Public Bank, CIMB, Hong Leong Bank, RHB and etc. The entire process for PTPTN repayment won't take you more than 5 minutes to complete. Isn't that great?
Previously, I was using PBeBank to make PTPTN loan repayment but now I will recommend you to use CIMBClicks service as it's the lowest service charge in the town! How much? It's just RM0.50 charges incurred. It really can save you a lot of money.
Here I want to share with you'll on how to payback your PTPTN loan using online banking:
Step 1: Login to your CIMBClicks account, select "Bill Payment".
Step 2: Then select Payee Category to "Education" and Payee Name to "PTPTN – Bayaran Balik Pinjaman Pendidikan".
Step 3: Next, key in your personal details.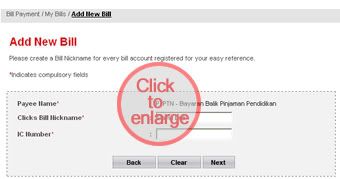 Step 4: Check your SMS to get your TAC. After that, key in your Transaction Authorization Code (TAC).
Step 5: Key in TAC and click next. Select the account your payment from and double check the pre-selected destination account.

Step 6: Then click next and fill in your IC number, offer letter number and amount.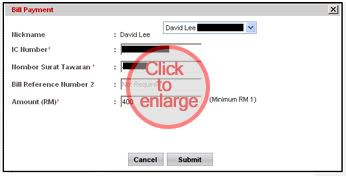 Step 7: Click "Submit" to proceed to payment confirmation page. Once confirmed, submit to end the process.