The reduction of the employee contribution to EPF from 11 % down to 8 % will be made automatically, effective from January 2009 until December 2010. The total contribution is still at a reasonable rate of 20%, which is 12% from the employer and 8% from employee. You will have to fill in the forms if need to maintain 11% employee contribution as before.
*Just for your information, EPF has the highest interest rate, follow by Fixed Deposit. Except in 1997 where the Fixed Deposit has higher interest rate than EPF.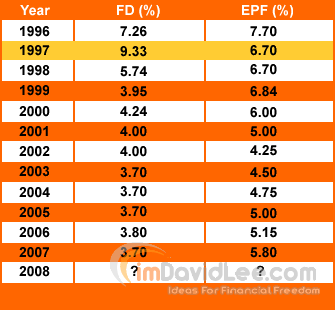 Which Option Will You Choose? 11% or 8%?
Is it worth to withdraw 3% of your saving each month? Try to think twice since you will get less for your EPF retirement fund !!!
Close to 80% of the working Malaysians salary below MYR 5,000 with majority of those earning below MYR 3,000. People who earning MYR 3,000 could get an extra income of MYR 90 monthly. Although it's not much, I'd rather to withdraw it for my own investment since there may have lot of saving and investment opportunity where you can get higher return than current EPF return and also have the flexibility to withdraw at anytime.
One thing that makes me feel unsatisfied is Malaysia per capita income remained stagnant for over few decades and the starting pay for skilled and experienced workers increased only a fraction compare to other advanced countries.