Do you think it is important to focus our energies on setting the task priorities in our lives? For me, it's crucial as there'll always have things more important than others, and some need to be done at urgently and some can be done at a later time.
If you know how to manage your priorities at work it can help you to handle the tasks according to the order of importance.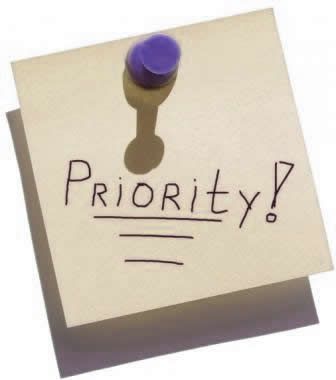 Plan Your Time
I always have a weekly planner which helps me to write down all tasks that need to be completed and the time it will take to complete them. By establishing what to be done within certain period of time needs can help me to prioritize as I can understand what needs to be done first and what things can be done later.
Make a "To Do" List Everyday
Everyday we should start out by thinking what we want to work on for the day. I usually do that by writing out a list of things that need to be done at the beginning of the day, this can help me to avoid wasting time making decisions on what to do throughout the day.
Set Your Goal List
A goal list can be used to keep track of short, mid and long-term goals. For instance, if you plan to build repo with a certain client over the couple of years, write it down as a goal. This is to allow us to track our progress and keep long-term projects on track.