Wadja.com is a Mobile Social Network. You can try to sign up and send FREE SMS to your friend's mobile phones anywhere in the world. Another thing is, once you add your mobile phone number to your Wadja profile, you can receive SMS from other Wadja users also.
After I have done my research and findings, I really don't have patience to sign-up. Once you sign up successfully, then you need to verify in your email.
After login, then go to choose 'SMS' and key in your recipient mobile number. Make sure that the mobile number should be in the following format: + country code, area code, and phone number…e.g. in the MY (+6 016 488xxxx).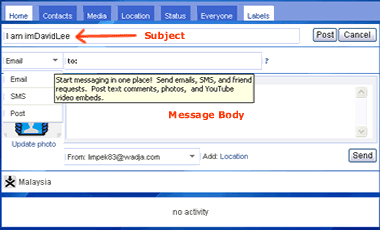 You can then write your subject (based on my testing, it's useless and won't be display) and message body and click send. Your message is immediately delivered to your friend's mobile phone inbox through a SMS alert.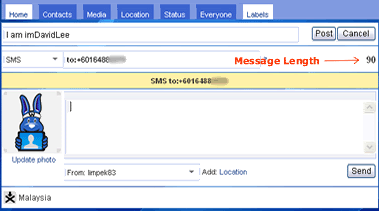 Why Wadja Is Free?
Wadja SMS is supported solely by advertising, thus Wadja can keep the service totally free for all our users.
Limitations Of Wadja FREE SMS
=> It's limited to 90 characters.
=> There is no delivery confirmation.
=> The receiver will see a small advertisement at the bottom of SMS, such as "www.wadja.com/yourname > FREE SMS www.wadja.com" (the link to your profile page).
=> Message quota is 3 SMS per day. (This is still under my testing as some people said can send 5 free SMS every day, but just not more than 3 SMS to each same mobile phone number)
=> You can send SMS in your own language, but the characters need to be Latin based else it may not display properly.