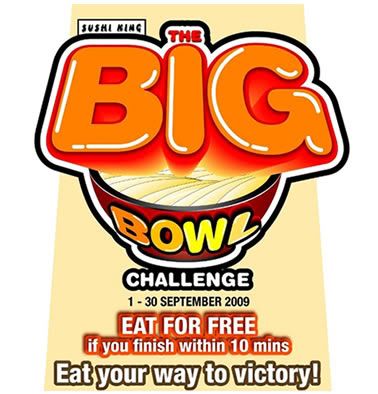 Does your stomach have the big capacity? What is your eating speed? When was the last time you had a bowl of noodle?
Sushi King is currently having this challenge for you; it's open to all participants. What you need to know about Sushi King Big Bowl Challenge? All you need to do is to finish the entire bowl + SOUP within 10 minutes. If you can't finish it in time, then your RM38.80 will fly off. So, it's better to finish it up, as the noodle is not worth RM38.80.
However, you must eat at your own risk. If you ended up with stomach, please don't put the blame on them ya…
I am wondering if they serve you the noodle in super boiling hot 1 liter soup, can you finish it in 10 minutes?
What Is The Terms & Conditions of Big Bowl Challenge?
– This promotion is valid from 1st to 30th of September
– Big Bowl is FREE of charge for participants who finish the dish (both noodles & soup) within 10 minutes.
– Participants will be charged RM38.80 if they fail to finish the big bowl within 10 minutes.
– Only one (1) big bowl per participant.
– Participants agree that they are participating at their own risk and Sushi King will not held responsible for any mishaps.
So, if anyone want to take this challenge, please do let me know. I will join and lets us eat our way to victory! Noodles of Japan !!! Noodles of Champion !!!