Although there is no property bubble, the recent hike in real property gains tax (RPGT) causes the consumer remain caution of rising housing prices. Such policy could put a pause to home purchasers who may anticipate further measures which would improve the affordability. This in turn could hurt the developers' new sales of property.
However, any drop in demand would be temporary until the general election is over, and the general election results could bring major impact on people confidence and demand.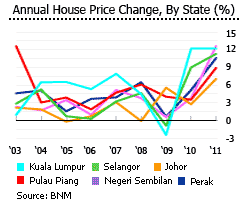 There could be stock market volatility just before and after election as was in the 2008 election, which could affect home purchaser's decision making. There could be higher possibilities that many purchasers will stay on the sidelines for election to be over before making any purchases. Thus, this would likely hurt the property demand in the 1st half of the year.