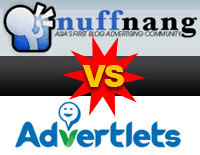 I believe these 2 advertising company are the biggest and most commonly heard local blog advertising agencies in the Malaysian blogosphere.
Yes…It's pay per click program but it depends on your traffic (impression) also. You can have Nuffnang and Advertlets on your blog at the same time. You will only see the default Nuffnang banner if there are no sponsors for you.
Comparison Between Nuffnang and Advertlets
It's a common scene to have people asking on which of these 2 being the better. Nuffnang and Advertlets are different from Google Adsense, Adsense is text based ads and the other two are graphical ads, so I don't think the click will be separated
From what I've known, Nuffnang will pay per impression when a campaign is in place. Nuffnang will update your earnings every week in the dashboard while you may check your Advertlets daily earnings.
Nuffnang can cash out at RM50 while Advertlets allow you to cash out at RM100 which is take more time to achieve.
More people prefer Nuffnang than Advertlets since Advertlets have some problem in their payout system, they always did not pay bloggers earning in timely manner.
The Thing That Advertlets Can Compete With Nuffnang
Advertlets have Blogvertorials, means you write a post with pictures. After successfully doing so, they'll pay you.
The Reason Why I Choose Nuffnang?