Buying phone, books or toys on the Internet is common these days as it just simply takes a few minutes to confirm an order. Pizza Hut has taken the lead in bringing new trend to Malaysians in terms of food.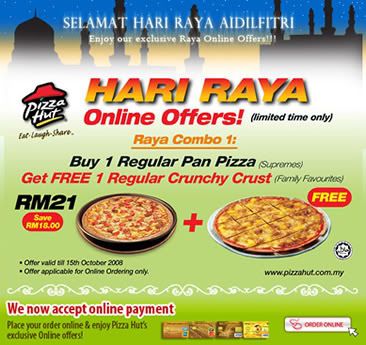 In my lifetime, I have seen the change from pizza restaurant, to pizza delivery, and now pizza that can be ordered online. It has become easier for us to order food that delivered to our home in a short time period. A customer just needs only a computer and Internet access to enjoy the online delivery service and access online payment service.
They can now order their food and pay it very quickly and conveniently without wasting much time searching for cash and waiting for change. The online payment system accepts Maybank credit cards as well as Visa or MasterCard but the orders must be worth between a minimum of RM10 and a maximum of RM300 per transaction.