Based on the forecast on long-term investment, the gold value will be getting higher. But it might turn another way round. Someone bought 7 years ago at MYR 39/gram but now more than MYR 95/gram.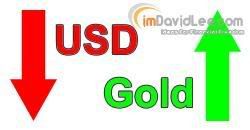 If you look at the relationship between USD and Gold Price, it goes in opposite direction. As long as USD keeps dropping, the gold price will continue to rise. So if USD goes up in the future, the Gold Price will drop. Obviously, there is a currency risk. Nowadays, gold price very hard to predict since it's going up and down as crazy as stock market.
Gold investment is always regarded as the best possible hedge against inflation but 1 distinct disadvantage is you don't earn any interest from it.
Where Can Invest?
Now, you can go Public Bank to open Gold Investment Account that allows individual customers to purchase the purest gold commodity based on daily prices in Ringgit Malaysia per gram.
You need to have 20gram of gold to open account, which cost around MYR 1900.
This 20g will still remain permanently in my account even if you did not do top up. You can buy additional grams but min is 5g and after that will be in the increment of 1g.
Requirement:
1. Saving account or current account
2. Stamp duty fees RM10
**At the end of year, you need to maintain 10g, if not they will deduct RM 10 from your saving accounts.
**A minimum of 2g of gold is to be maintained to ensure the account remains active.
At last, if you really want to invest. Please do not put all your eggs in 1 basket, do diversify your investment to crude oil, silver, etc. All this commodities have brighter future. Did u think about what would happen if the gold price comes down in the future?
Question ???
Why the gold rate for Maybank & Public Bank is different since all gold are traded in one market?