Do you think that you can survive with salary RM3,000 in Malaysia nowadays. Based on my personal survey, I noticed that in Malaysia, the average family income is RM3,000 per month. But, I do understand that there are still many families whose monthly income does not reach RM3,000.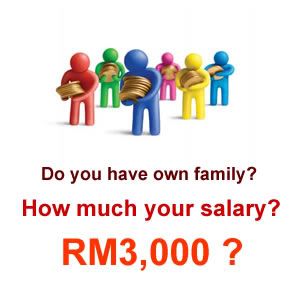 In order to make calculation simple, let's take RM3,000 as the figure:
Electricity bill: RM40 (Assume no air-con, no water heater)
Water bill: RM10
Phone bill: RM100
Family meal: RM900 (3 meals on RM30/day)
Car repayment: RM450 (A Perodua Myvi, 5 years repayment)
Petrol fees: RM150-200
House repayment: RM550 (Assume living in low medium cost apartment)
Personal insurance: RM400 (combination of you and your wife)
Total monthly expenses: RM2,650
All the above calculation have not taken into account when you have own children. Besides, the EPF and income tax haven't deducted. So, do you think family with salary RM3,000 enough to survive? Obviously, you will say cannot, am I right?
However, I have one friend who works as technician with the salary RM1,500 and his wife works as operator monthly gained about RM800. Total is only RM2300!!! But they still can survive with that! Malaysian Boleh !!! So, there's nothing is impossible in this country!
Honestly, Malaysia is one of the lowest salary range country. You try to compare with our neighbour country, Ringgit to Ringgit and Singapore dollar to Singapore dollar…In Singapore, you can get Char Kuey Teow for S$3, Malaysians can't get that in KL city, but you still possible to find it in certain area in Penang.