If you're Citibank Clear Card members, then it is great news for you. This is because you can enjoy buy 1 free 1 Cathay movie ticket and pay for your popcorn combo for just RM2 now. For the previous Cathay Cinema promotion, the Citibank Clear cardholder can enjoy RM6 per ticket and popcorn combo for just RM2. This latest promotion seems like bring much more benefits to movie lover. It means when we buy 1 ticket, Citibank will give us another 1 free ticket.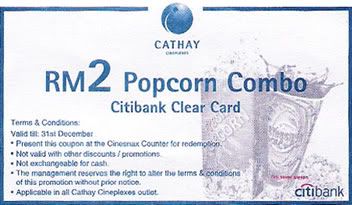 Terms & Conditions
* This promotion is valid till December 31, 2010.
* Available everyday for all movies but just for normal seats only.
* Each card member is entitled up to 2 movie tickets and 2 popcorn combos per day.
* Popcorn combo only valid with the purchase of movie ticket
* Movie tickets are on first come first serve basis at 1000 per week nationwide.
Do You Think Cathay Cinema Promotion Is Real?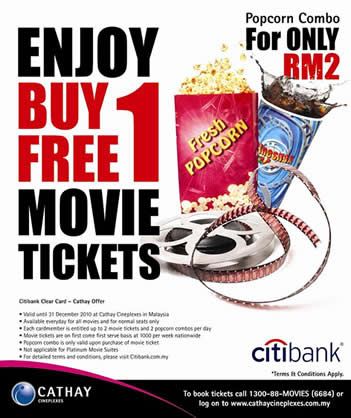 I heard some of my fellow blogger said that they cannot get what they want. The Cathay Cinema staff always can't get the latest information update from the Cathay Cinema official website. Besides, they do not have systematic handling to most of the Cathay loyalty customer. What do you think? Did you face the same situation?