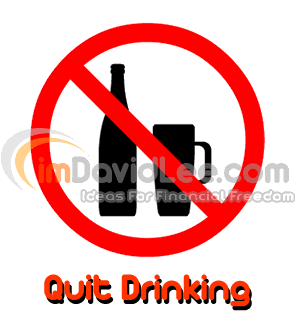 There are many reasons to quit drinking but 1 of the most beneficial reasons for me is saving money. Most alcohol is expensive and quitting drinking will directly affect your income and spending habit. You must have the will power, and drive to want to be alcohol free. If you are not in the right mindset, then it could prove useless and unsuccessful.
First and foremost, quitting drinking will bring you more healthy. Drinking too much alcohol may reduce your immune system so quitting drinking will help your immune system to rise and you will be much less likely to become sick. You will be able to spend many more years with your family and loved ones.
You will also slowly to get a good appetite back and allowing you to eat much more than you did before. It will also help you to lose weight, as you won't be consuming all of the calories and fat. You will be able to wake up earlier much easier. Alcohol causes you feel tired and makes you sleep much more than normal.
Although I believe that alcoholics are the kindest and most caring people in the world but life can be much better if you make your decision to quit. The first few days are the toughest because you're changing a life pattern.
Have you made your list of reasons why you don't drink anymore?