Only money that produced by central bank is valid for the usage. But do you all know how to distinguish real money from fake money? From what I've known, mostly people expert in spending money and receiving their exchange blindly. Haha…
Actually if you know to use those combination of real money characteristics to trace then it will be more secure and accurate. I will share with you on how to trace the money without using Pen Detection.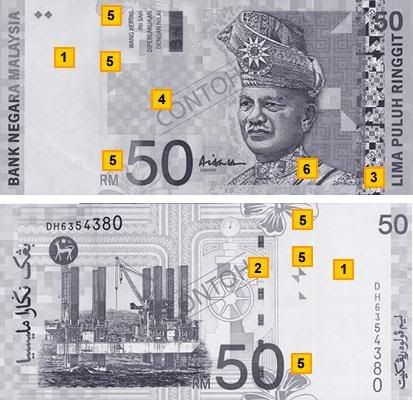 Easiest way & Safest way to Identity Real Note
1. Portrait
– Try to take your note below the sunlight or lamp then you may see the image of Yang di-Pertuan Agong that is displayed at the blank space (left side of the note). The image is in dark outline and there's no filled color in its.
– Below of it will have the stated number, if it is RM50 note then the number 50 is displayed.
2. Safety line
– The hard dash will be shown on the back surface of the note. Try to see it under sunlight or lamp; the hard dash will be in 1 straight line. The word of "BNM 50" is displayed and is repeated. (If RM50 note is used)
3. LEAD characteristics
– At the right side of the RM10, RM50 & RM100 note, there will have shining portion and this contains 3 things, which are:
i) The image should be same as the image that displayed at the right side of Yang di-Pertuan Agong.
ii) The "RM50" is displayed.
iii) The word of "BNM" is displayed.
4. PEAK characteristic
– This is the hardest part to identity and you need to see it in different angle views, you may see the number 50 to be displayed for RM50 note and so forth.
5. Image of Hibiscus
– The Hibiscus flower image is displayed at the top and bottom of the note and you may see that it is same location as the back surface of the note.
 6. Printed Intaglio
– Portrait of Yang di-Pertuan Agong is the most unique surface and you may feel more thicker when you try to touch on its.