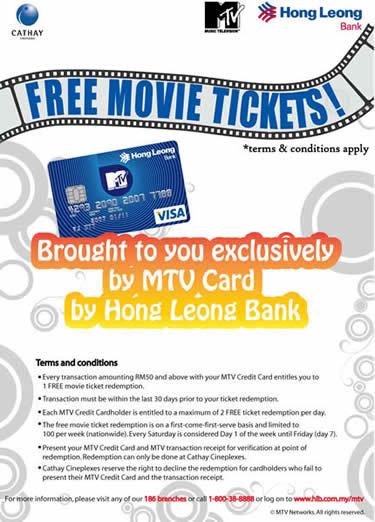 Hong Leong MTV Credit Card always brings me fantastic privileges. What's special? Just spend RM50 and above in a single receipt and you can redeem 1 FREE movie ticket at any Cathay Cineplexes nationwide. Based on my calculation, lets say 1 Cathay movie ticket is RM8, then you have already gained RM8/RM50 x 100% = 16% cash rebate, am I right?
I redeemed once before which was at the end of last year. After that, they stop this kind of promotion for a while (almost 1 month) due to new promotion for Hong Leong Master Card. But it never disappointed me at last!!!
Smart Finance Tips
If you are planning to buy anything during this economic crisis, which cost you total RM400. Then you can request the cashier to split it out to 4 transactions, which means that you have 4xRM100 receipts. Then you can get 8 free movie tickets. Make sure that you follow my method because over RM100…RM200…RM400 in a single receipt is entitled for you to redeem 2 tickets only.