There are many opportunities for getting the certification, but some of them can be very expensive. In these current economic times, budget cuts have become the norm, and companies' training budget is always one of the first things to go. It's understandable that Microsoft training classes tend to be costly. Therefore, I was trying hard to look for other training options.
Believe it or not, Microsoft actually offers training through the Microsoft Virtual Academy (MVA) for FREE. MVA is a cloud-based training portal. If not mistaken, it was the first put in place to equip IT experts with training on Microsoft's cloud based technologies. Besides that, you don't have to meet any criteria to take part in this training. The courses and its vast resources are freely available to anyone!
Once you have registered you can signed into the MVA to make a selection on the technical track. A track can be best described as an area of study. For instance, some of the available tracks are Microsoft Azure Developer Camp: Build a Cloud-Native App, Office 365 for Developer, HTML5.
The other good point is Microsoft does not limit the amount of FREE training that you can attend. You can do it as many as you like. There is also no obligation to complete the track before starting another.
Once you have made a track selection, then it's time for you to get started with the training process. Each track consists of one or more modules. For instance, the Microsoft Azure Developer Camp: Build a Cloud-Native App track which I have just completed consists of 4 modules:
An Overview of the Cloud
​Introduction to Microsoft Azure Virtual
Building Apps with Cloud Services
Handling Identity with Microsoft Azure Active Directory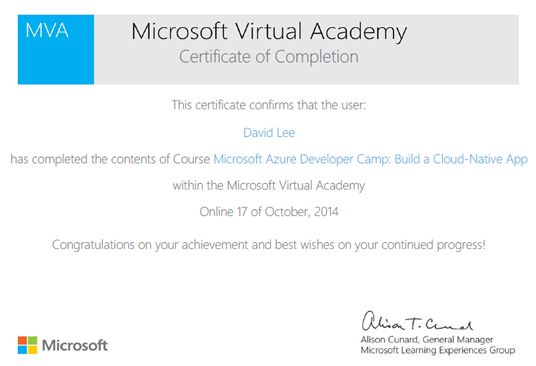 There's also a self assessment quiz in every module. It follows the same format as a Microsoft certification exam as it consists of multiple choice, choose all of the correct answers, and the like. In addition, you will be timed while answering the questions in which the level of difficulty is comparable to a certification exam. The major differences is that the self assessments are much shorter than a Microsoft certification exam. While a certification exam usually has about 50-100 questions, a self assessment might only have 5 or 10 questions.
In conclusion, using the MVA might not be the best option for you to study for a Microsoft certification exam, as most of the information provided are not directly aligned with certification exams. However, if you are just simply want to learn a Microsoft technology or if you need to pass a certification exam but have no budget for doing so then the Microsoft Virtual Academy (MVA) can be a very good option.
My Learning Plan
Microsoft Azure Developer Camp: Build a Cloud-Native App – Completed
Developing Universal Windows Apps with HTML and JavaScript Jump Start – In Progress