Today, our FKLI futures index went up 2 points to close at 1564.5. I can see that the moving average is at a reduced pace now. As I known, no trend could goes up forever. The reason why FBM KLCI dropped till this level is because there's the expected minor correction which is not sufficient yet.
Based on the AmInvestment forecast, the FBM KLCI may experience further downside and their expected support level will be 1550 – 1540. If the index dropped till that level, then it will be a good chance to initiate 'LONG' position in order to ride on the long-term uptrend.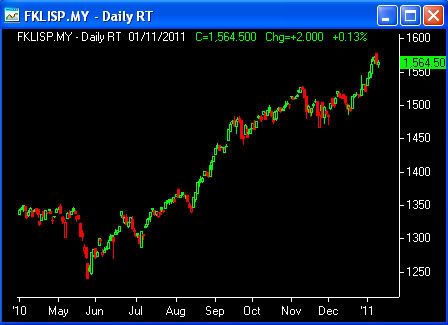 I hope that the bulls can be in control for the following days so that it's more comfortable for traders like me to have profit taking. For those who have shorted the market previously then can take this opportunity to cover your short position, especially near to those above mentioned levels.
In my opinion, the FBM KLCI will continue to stay in its short term range-bound, and it may shoot up to 1600 level after the pull back.
This month's expected range: 1540 – 1600
Resistance Level: 1590 – 1600
Support Level: 1540 – 1550