Based on my research, quite a great number of blogmaster and webmaster know to make use of Google SEO to make traffics to their site. These day, my main traffic source is come from Google due to I know to control the search engine market…Haha…Just kidding!!!
SEO analysts claim that this figure is as low as 60% while I calculate it to be somewhere near 80% for my Malaysia Financial Blog. Here, I recommend you to spend some time to accommodate with Google as much as possible. In the other words, try to do something to let Google recognise your content.
Tips & Tricks of Getting Traffics From Google Search Engine
"I am not joking because I am not the joker". Google can deliver high quality traffic to your sites. There are no tricks to it either and make sure your site is properly optimized with the right keywords for your niche. The rest happens by getting good links.
My Current Aim: I figure out that I just need to keep blogging and keep up with articles and it will come in over time Google remain as my top source of web traffics. Right now I'm trying to see what keywords my visitors frequently use and create more articles based on those keywords. And, for your additional information, my Search Engine Traffic is picking up day by day and hopefully that will continue. These are my tactics!!! So, what's yours?
My next big source of traffic has been Social Bookmarking. The volume of traffic that social media can send is really powerful. My most favourie Social Bookmarking site is Digg.com since you can managed to get on the front page of Google search result.
Next, being an active member in a popular forum also can help, but I don't do frequently due to time constraints. No matter how, the important thing that you should try to achieve is to establish a steady flow of visitors. Let me show you what I found in my Google Analytics: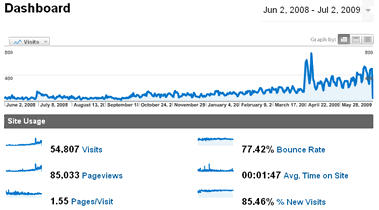 After seeing my graph analysis, is it a good idea to invest in my blog? Haha…Anyway, can you tell someone how many visitors of your blog on daily basis?