What's going on with our oil price again? The price of crude oil has increased sharply to its highest since year 2008 financial crisis at US$105.40/barrel on 25th March 2011. In perspective, the price of crude oil averaged US$79/barrel in year 2010. According to market researcher, the price of crude oil will continue to climb for the whole of this year.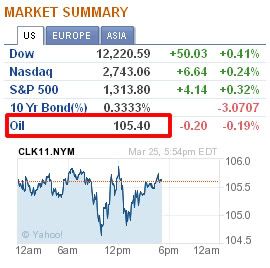 With this crude oil price heading north, there're concerns that it will affect our country economic recovery. Based on research house assessment, the global growth may drop 0.5% if the crude oil increased from US$95 to US$105 per barrel. If the crude oil further increasing then we will suffer the inflation issue and dampen our domestic demand as well as economic growth.
In the other words, the Malaysia economy will be vulnerable to slack growth and high inflation caused by high crude oil price. If our Bank Negara Malaysia do not take serious on this situation with the Overnight Policy Rate left unchanged at 2.75% level, then it will weakan the ringgit at the end. Thus, our government should do something in order to meet their previous plan in projecting the ringgit to average at MYR3.00 against US$1.00 in year 2011.
However, a lot of investors are concerned about the sharp rise in the crude oil price in the international markets. This is because a sharp rise in the crude oil price during 2007 was one of the factors that pushed the global economy to recession. Those stock investors should take caution especially when stock has rebound recently as oil being a commodity could see the cycle being reversed as well.