Have you ever searched for something on Google and the top search listing had subpages listed for the Website? This is called Google Sitelinks. Sitelinks are generated automatically by Google, you have nothing to do in order to get them. Google will check your site if your site has enough contents and at least 1 year old.
Most of the famous blogger like IT Engineer, proBlogger.com, TechCrunch.com will have their Sitelinks displayed but when I type imDavidLee, no Sitelinks displayed. Thus, I still need to work hard on this. I noticed that most of the blogger's Sitelinks will be displayed if their search result exceed 10,000 when their particular name is being searched.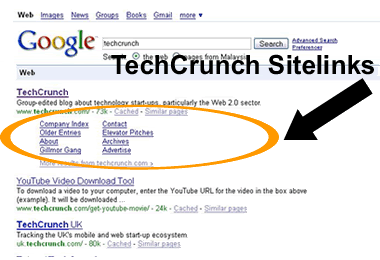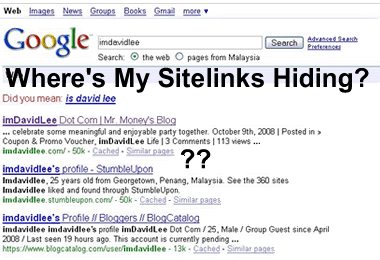 Tips For Getting Google Sitelink
Site Traffic: If your sites have higher traffics, you will have higher possibilities to get Sitelinks.
Internal Linking & Backlinks: You need to have a great number of internal linking and some backlinks too.
However, if you can meet all these criteria do not mean that you will guarantee get them.