Time is Money. Nowadays, most of the businessman will face tight schedule problem or lack of time to do banking transaction. In order to overcome this issue, Maybank2u is a good choice for them to do online banking transaction. I believe most of you are very familiar with Maybank2u already. Am I right?
Maybank2u.com is an instant online banking service that allows the Maybank customers to access from the desktop or laptop at anytime, anywhere. Besides, Maybank2u is the first bank which offering online banking via online banking portal.
Maybank2u provides a lot of online banking features such as transferring funds and checking account balance; they also provide the facility to pay for your utility bills online (this include Astro, water bill, electricity bill, telephone bill, and TMnet).
Step By Step How To Make Payment via Maybank2u.com
1. Logon to http://www.maybank2u.com, sign in with your saving/current account's username & password.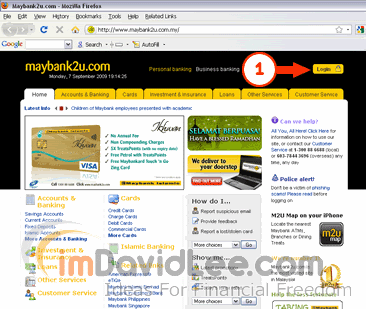 2. Then, click on "Accounts and Banking".
3. Next, click on "Transfer".
4. Now, click on "3rd Party Account Transfer".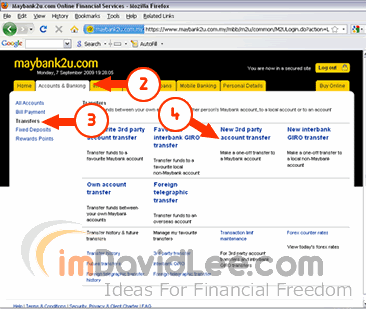 5. After that, key in your "Amount" to be transferred
6. Key in "3rd Party Maybank Account Number" (recipient account number). Make sure that the account number should not be less than 12 characters.
7. Key in "Recipient email address". (optional)
8. Key in "Description of Transaction". (optional)
9. Check the details that have keyed in before. Perform double-checking and make sure that the payment is made to correct recipient. If everything is fine, then click on the 'Request TAC Number'. You will receive the TAC number via SMS. Input the 6 digits TAC. Click on confirm button to complete the transaction.
Although nowadays most major banks in the country provide almost similar online services, but I still more prefer using Maybank2u.com. What makes this site unique is that it presents everything you need into one, easy-to-navigate site.