As everybody known, e-Filing is an online system introduced by LHDN that allows you to submit your income tax online, which is an alternative to the manual form submission. Although e-Filing has undergone a progressive improvement but it still not yet fully robust free. The issue that I discovered was when you click on 'setuju' to submit the form, you will not have chance to re-edit and modify your form details anymore.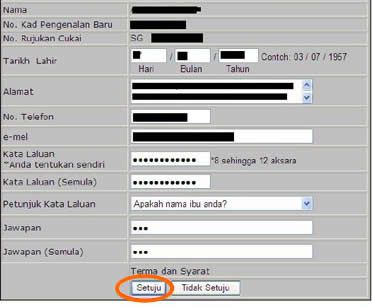 You can see that around 1.5 million Malaysian taxpayers have used LHDN e-filing system this year and more are expected to do so for coming year. So, just imagine how many potential victims are there! So, i suggest our government should take a quick action to address the issues and resolved it in timely manner.
Is It Possible to Re-submit Your Income Tax Form Through e-Filing?
Let say you have done wrong in filing your income tax online, what should you do? I have ask these question with LHDN and see what they replied me in the email.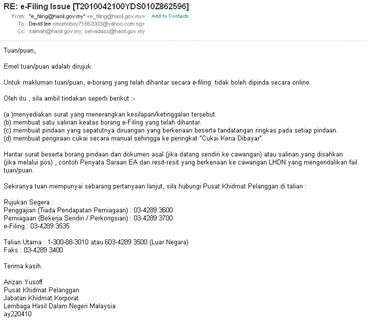 For the current online income tax system, you are not allowed to re-submit the e-Form. Basically, you just need to print out your e-Form(e-Borang Nyata), then circle the incorrect figures and change it to the correct value. But, the only disadvantage for you is you need to do manual calculation. You can refer to my previous topic which you can download the Income Tax Calculator in order to calculate your income tax easily.
Besides that, you have to write a formal letter to request the changes based on the e-form that you'd submitted before. Make sure that you personally do a copy of it so that you can let the LHDN officer to sign and certify for you. This copy you should keep it as a proof. If possible, you can try to bring a copy of your EA statement to prove your annual income.
If you still getting in doubt, then you can try to contact LHDN directly for verification (Hotline: 1300-88-3010, Email: aduan@hasil.gov.my ).
Anyway, it's still a good way to educate the public about the importance of good online habits. e-Filing is much more easier than the manual filing in the sense that you don't need to do calculation for any amendment in figures. What you need to do is just keying the numbers in the boxes, then just let the system calculate your tax amount.