As everybody known, Malaysia had introduces the use of income tax e-filing since many years ago. But, there are still a lot of Malaysian do not know how to make use of it. Today, I will teach you step by step on how to do your online register income tax so that you can save a lot of time and trouble.
Steps On How To Do Register Malaysia Income Tax Online
Step 1: Get your PIN number through email. The PIN number is a 16 digit number. Please make sure that you have all the information together so that you no need to do double job:
i) Tax Reference Number
ii) Latest Home Address
iii) Copy of Identification Card (front and back)
iv) Phone Number
Send your application to pin@hasil.gov.my
Step 2: While waiting for your request PIN Number to be processed, you can try log on to http://ekl.hasil.gov.my to register your income tax.
Step 3: Next, click on "Daftar Pembayar Cukai Individu".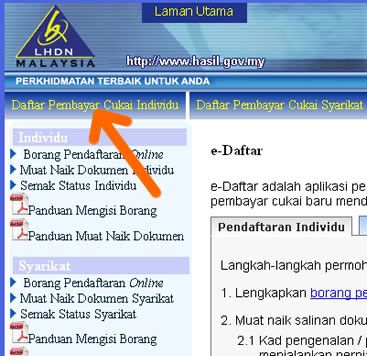 Step 4: After that, fill up all the detail as below and then click "Hantar"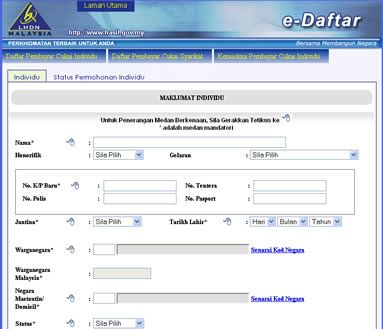 Step 5: After submit, you will get a "No. Permohonan" and be sure that you must keep your No Permohonan properly. So, you can check your status at http://ekl.hasil.org.my/info.php
Step 6: You can try upload your Identification Card soft copy by clicking "Muat Naik Disini" else your application will not be process. Or you may try to upload later at http://ekl.hasil.org.my/info.php
Step 7: Once you have uploaded, you can access http://ekl.hasil.org.my/info.php and key in your "No. Permohonan", all your information will be shown there.
Step 8: At the bottom of your information, you can see your "Status: DALAM PROSES". After several days, it will change to "Status: PERMOHONAN ANDA TELAH DILULUSKAN" if all your information is correct.
Step 9: Then, you can proceed for your 1st time login at e-Filling (https://e.hasil.gov.my) once PIN Number ready.
Please make sure that keep your PIN number confidential. After registration, the PIN Number is no longer needed; instead you will use your password.
If you still unclear about the steps, you can go to iCalvyn.com to search for more details.