Bank Negara Malaysia raised the Overnight Policy Rate (OPR) by 25 basis points to 3% since last Friday. Following this, banks will increase the Base Lending Rate (BLR) sooner. So, for those who have variable loans especially housing loan will have to pay more in their monthly installment.
The reason for increasing the OPR is to cover the local inflationary pressures. The current inflation rate is about 2.9% and it is expected to continue to rise in latter part of the year. However, Bank Negara did a great job as they take pre-emptive action to push for economic growth before addressing the inflation issue.
From positive side, our current fixed deposit rate will be raised also. And, interest differential may also encourage more foreign funds to flow in, which subsequently may further boost the value of Ringgit Malaysia. As the result, the stronger ringgit will also help to blunt the impact of rising import prices as well.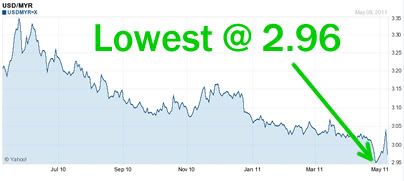 Based on my personal analysis, our economic will remain strong due to good performing of ringgit against US dollar. With the current hike of  OPR, I believe that our local market temporary will not fall into downtrend unless it's affected by external factors.