Most of the people can create income, but what about preserving income? I can see most of the people nowadays only know to spend money but do not have any idea to save money for future usage. Yes, you must have your own savings as well, then you can grow your saving and turn it into investment.
To invest, it is depends on your risk appetite.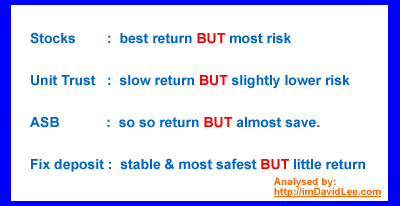 Unit Trust
Apart from being a software engineer, I am also a loyalty unit trust investor of Public Mutual Berhad. I have personally invested in unit trust, and my returns are good for a short period of time.
Different between ASB & Unit Trust
I have invested in ASB also but do you know what is the different between ASB and Unit Trust?? These 2 are not a short-term investment. ASB payout is about 6.8% only and you need to keep it there for a year. It is a close ended, and you buy RM1 and sell it at RM1, it just pay you the dividend. Whereas Unit Trust is an open ended and you can buy RM1 and may be will sell it below the initial price.