After 1 year with the domain name imDavidLee.Com, this blog has good rank and it's made money also. For the coming days, I will have own Internet connection at home thus I will be more flexible to handle my personal blog and perhaps make more money this year. Then, I can plan to buy my decent house and dream car without using my fixed employment income.
If you did follow my previous articles, you may know that i can make more than US$100 since May 2008. Although it's just a small amount for professional blogger, but for newbie living in Malaysia it is big money.
My Current Rank Of This Blog:
Google PageRank: 2
Alexa Rank: app. 350,000
Technorati Rank: app 130,000

Thanks to more than 100 visitors/day and the back links from some fellow bloggers. The traffic fully depends on my activity on Google Search Engine. Google Search Engine has helped this blog since 4th quarter of 2008. Yeah…It's been a primary traffic for this blog. Check out the screenshot below.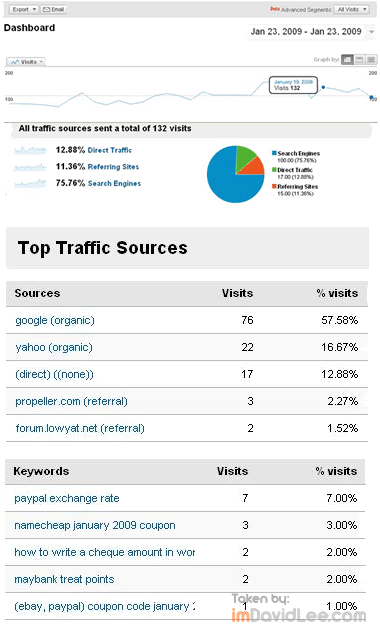 I got some clicks from the running ads but not so consistent for every day. Hence, this is my primary task and another challenge for me to achieve.
Thanks to several sponsored review and paid post program. It's given me traffics and chances to make money online.