Many people also know that Genting Casino in Malaysia was a well known casino operations, which generally attracted a lot of people, come from different countries of the world. Hence, Genting is the one of the tourism that become high profit generator in Malaysia.
The Singapore Casino, which is run by Genting International. I have been thinking whether the effect of the financial crisis will affect the Genting Casino gaming industry?
Based on my personal analysis, the shares price on Bursa Malaysia have been on the downtrend since the March 8, 2009 general election. In addition, the knock-on effect of the sudden hike in petrol prices and weakening consumer buying power has much affect the Malaysia economic. However, one stock that continues to be favored is, one of the best-managed stocks in Malaysia, Genting Bhd.
Genting Share Price Drop After Lost Its Founder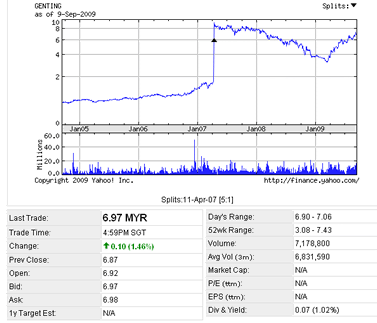 Genting share drop from RM9.90 to the share price at around RM5.60 since April 2007. It was lower than the share price of RM6 after March general election. I guess should be caused by the lost of its founder, Tan Sri Lim Goh Tong, at that time.
The Reason Why Genting Share Price Rise
Genting is a blue-chip stock that is widely favored by foreign country investor. Do not forget that Genting share price has risen strongly, especially after it won one of the two casinos in Singapore at year 2006, and has entered into the UK casino market. So, most of the investors do have short memories on this successful overseas diversifications.
Genting share price is increased. Last year, it was broken it the lowest recorded at RM 3.08. Compare to its high of about RM 6.84 until now, it is quite an attractive prices but if the KL Composite Index have the potential go even higher than current, I would not be surprised if Genting share price breaks the RM 8.00 level.
Successful Spread Trading
Spread trading is a way to make money even in an uncertain global financial market. It's 100% tax free and there are ways and means to limit your risk.