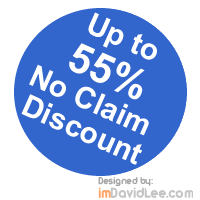 Do you know what is NCD? NCD is No Claim Discount and this is the thing that every people should know when buying car. If you are buying car for the first time or become the first time policyholder, then you will not have NCD for the first year on the road.
This No Claim Discount (NCD) is only given to the policy holders upon they renew their motor insurance if no claim was made against your policy within 12 months coverage. Let say if you free from any claim within the year, then you will be rewarded with a 25% NCD discount of your renewal premium next year. Else, your NCD for your car will be forfeited and falls back to 0%. In the other words, once you have claimed on the motor insurance then your NCD is gone.
For those existing car driver who is planning to change their car then they can transfer their current NCD to new car's insurance, even if switch to another insurance company. However, the NCD is not transferable to another person. Let say you have 55% NCD for your existing car but you sold it and didn't buy another car within 2 years then your 55% NCD will go down 2 levels become 38.33%.
NCD Is Not Just A Discount
For me, NCD is not just a discount but you can claim back money of your NCD under certain condition. Let say if you have already paid a premium for a motor insurance, and then sell the car, you can claim back the premium paid, e.g if you pay/renew your insurance in Jan for that year, then you have decided to sell it in April, then you can file a claim to get back certain amount from May to December for that year.
If you knew about NCD but not really in details then you can get benefit from this information.
| | |
| --- | --- |
| Period of Insurance | Discount |
| First year | 0% |
| After the 1st year of insurance | 25% |
| After the 2nd year of insurance | 30% |
| After the 3rd year of insurance | 38.33% |
| After the 4th year of insurance | 45% |
| After 5th or more years of insurance | 55% |
So, next time if you are planning to renew your motor insurance, try to check your NCD entitlement or you can try to bookmark this blog post as your future reference.