The FKLI is consolidating around the 1570 level this week and it will separate the bulls and bears, with 1565 and 1575 as next major breakout point next week. So, it's not encouraged for those who plan to have 'SHORT' position for long-term. In the other words, it's also not advisable for those who plan to initiate 'LONG' position at this moment unless you want to take a risky step.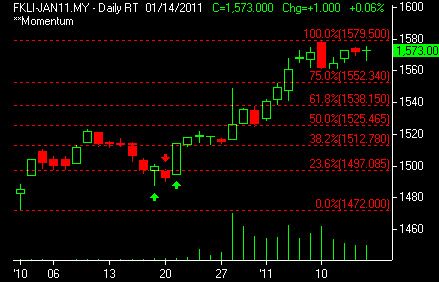 However, if you still unconscious then you can try to take risk by initiating 'LONG' position as I am in the positive view that the current market will not be easy to initiate short position. No matter what, once you initiate your 'LONG' position then you should remain holding the position and riding on the trend.
Index went up about 1 point today with 317 advancers vs 552 decliners. I believe that market has complete its correction when it drop to 1,555 level previously. Based on current performance, it is likely to carry the index towards 1,580-1,595 levels in the coming days.
Next week's expected range: 1560 – 1595 while support is seen at 1565 level followed by 1560 level and the resistance is seen at 1580 – 1595 levels.