Have you ever heard about Maybank New Visa Debit Card? I noticed that many naive bloggers said this card can be used for online transaction but I want to emphasize on this issue and make a conclusion that it's not like other Bank debit card, which allow for online transaction. But, it is possible to do that in future since now still in phase I.
Why so confident to say that? This is my conversation with Maybank customer service staff…See the proof here…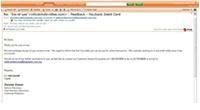 What's the features?
Actually it's not a Debit Card but more on Electronic Use (ATM Card). If you use previous Maybank ATM card, I think only certain amount of Visa merchant can accept it. With this new card, you won't feel worry much and for sure you can use it for payment if the Visa Logo is represented there.
For replacement from old ATM card to this Visa Debit Card, you will be charged about MYR12. This is inescapable !!! (I'm not exception too) This will beneficial for new customer who have no saving account with Maybank before, they can open the account and get 1 free.
I have asked Bank Officer about the reward points and they said that for every MYR 1 you spent you would get 3 Treat Points. These points can be transfer to your Maybank Credit Card Account (If you own it) for point's combination.
Remain Question Mark In Myself !?!?
Better don't use it to make payment at Petrol Station as it will deduct your money up to MYR150 even your pumped fuel price is MYR10. But they will refund you MYR 140 on the other day. Why got this kind of sucks process?? Is it Maybank want to borrow our money temporary to do something?