Most of the blogger also have an interest in increasing their web site or blog traffics. In this article I am going to show you my blog traffic using Google Analytics. Increasing traffic to your web site or blog is probably the most toughest part to achieve. Building a web site or blog indeed has its own challenges; however, what normally people achieve is that they can build a very nice site but fail to get traffic to it.
Last time when I just started blogging, I also encountered a lot of issue and sometimes fall into 'blogging sick' as lacking of idea 'what to blog' next. Besides, I also suffer a lot when doing Internet marketing for my personal blog. But now these kind of serious problems no longer exist and I feel so happy with my daily result, somemore I can predict how my traffics is going to boost in near future.
I tend to narrow my traffic results in 1 month which is 30 days period.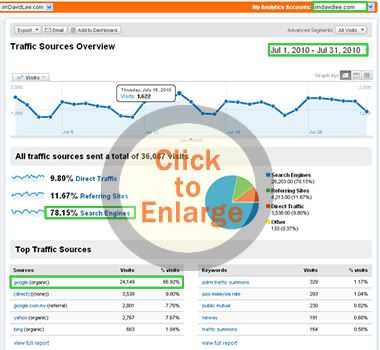 Where are my insights?
From my observation,
* Looks like a lot of my traffic comes from Google search engine
* Some people come directly (type my URL in address bar directly)
* A great number from Yahoo search engine
As you can see, there was a pretty huge traffic came from search engine which is 78.15%.
My Tips: We can try to check our blog performance routinely to analyze our blog traffic day by day, so we can figure it out how to improve our blog traffic in the future.
Huge Traffic Does Not Mean You Can Make More Money!
I can see that quite a great number of bloggers who have great amount of traffic but can't make good amount of money. Do you know why?
First of all, you need to know your types of site traffic. Generally, blog traffic is normally divided into 3 types:
i) Search traffic
ii) Loyal readers
iii) Referral and social media traffic
Those 3 types of traffic demand different ways. For my case, most of my earning is come from search engine traffics. So, you need to find out some technique to resolve your problem if that particular type of traffic source does not really generate money for you.