Penang International Property Expo is one of the biggest one-stop property, home and lifestyle exhibitions in the northern region, and it is certainly an event not to be missed. If not mistaken, PIP Creation Sdn Bhd is organizing the 5th annual property fair at this coming weekend.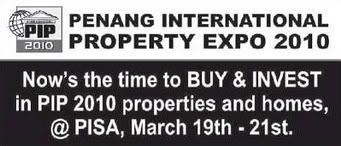 If you are planning to get yourself a new house or property investment, then this is a good opportunity for you to take survey on the properties you like. This kind of event showcase sure will have a lot of lucky draws, and door gifts. If you want to know more, you can check for the program details and schedule below:
Date: 19th to 21st March 2010
Time: 11am to 9pm
Venue: Penang International Sports Arena (PISA)
Admission: Free
Previously, there are more than 200 booths showcasing the products of over 100 exhibitors. There will have many types of property such as residential, commercial or industrial units, it's depending on user's budget and preference to make decision. I believe that this time would not be less than that.
As I known, a lot of popular exhibitors such as Airmas Management Sdn Bhd, Ivory Properties Group, Mah Sing Group, PDC Properties Sdn Bhd, Sunway Grand Sdn Bhd and etc will be there.
So, please don't let this golden opportunity slip away from you. Probably I will go there to do some property survey, which may help me in my property investment plan.