Last week from 23th – 25th of May which is the new opening of Fun Tea Garden (located opp of Cosmic, Prangin Mall) and the only one thing that really grab my full attention was the banner advertisement. See below…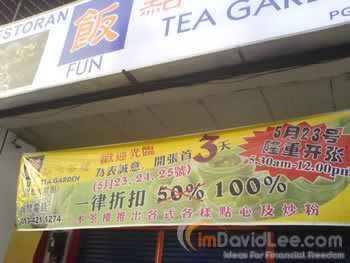 If you follow the calculation manner, then you will know 100% discount means that you go there having Dim Sum with no need to pay any single cent, am I right? But, this normally is the marketing tactic that used by business minded people to run their business.
Actually, if you go to have your DimSum within these 3 days, then you are entitled to get another for free within 1 week after these 3 days (only up to that amount that you've paid previously). If having more than that amount then you should pay the rest of the balance !!!