Redeeming mutual fund is very easy and straightforward nowadays. You can withdraw your mutual funds on any business day without any charges. The unit trust management company will be obliged to purchase them so it comes with high liquidity whereby they can be readily converted into cash anytime.
As a unit holder, you will need to know that the NAV of the working day is applicable till 3pm or 4pm during redemption depending on which market you are dealing with. The value of the redemption will be based on the closing price of the business day in which the redemption request is received. Therefore, if you apply for redemption after 3pm or 4pm, you will receive the NAV of the next day.
Usually, it will take 4-10 working days to transfer the money to your bank account. In case you need money urgently, make sure you initiate the process at the beginning of the week to avoid the gap of a weekend which may cause delay in processing.
If you have a Public Bank account which linked to your Public Mutual Online account, then it's much convenience for you to purchase, switch, sell back and check your units & value. Recently, I made redemption on the following funds through online:
i. Public China Ittikal Fund
ii. Public Singapore Equity Fund
iii. Public Islamic Asia Leaders Equity Fund
iv. PB Euro Pacific Equity Fund
Step-by-step on How to Withdraw Public Mutual Fund Online
1. Click on the "Make a Request" menu link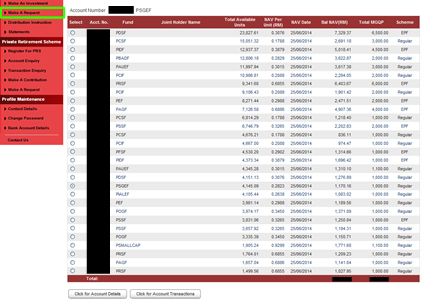 2. Then, click "Repurchase Request". After that, select the fund that you wish to redeem. Click "Next"
3. Key in the repurchase units. Next, select the mode of payment. In this  case, i choose direct credit. Then, key in your bank account details. Click "Next"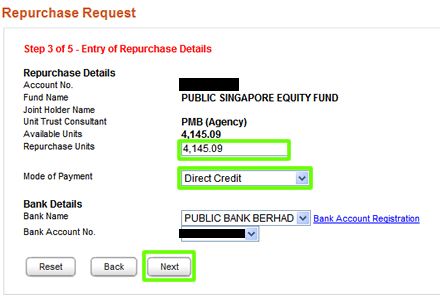 4. Click confirm after checking.
5. At the final stage, click "Done"