The US dollar was one of the strongest currencies in the market with millions of people using them but however, they are now losing against Asian countries such as Malaysia, Singapore and etc.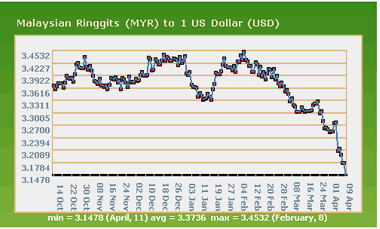 Based on my personal analysis, the Malaysian Ringgit (MYR) against the US Dollar is at its strongest in the beginning of April if compared with the previous months with it reaching MYR 3.21.
For those people who are holding the US Dollar, they may feel disappointed as they are making less money with the rate of the currency going down. I felt depressed when looking at the trend of the chart last week. In any case, in the last week of March, the currency conversion rate for my Google Adsense was 3.29 only. Meanwhile, my affiliate payment had been credited to my Paypal account since 2nd April, but I wonder if I should wait for it or withdraw.
Do you think is this good for our country since we know that foreign investor usually more likely to invest in a country, which has a cheap & lower operation, cost comparing to their currency rate? Is this a sign of Malaysia economy is improving? For me, it is not necessary to said that our economy is improving, this is because we can import more but our exports will be decreased since it might encourage people to buy things from US at a lower price.