Back to past 4 days, I signed up Digi Postpaid Optimum Plan which is sublined under my best friend's account. With this kind of idea, I don't get the benefits of 5000 points yield RM 140 rebate.( For Principal Line User Only) Once you accumulate the points till 6000 points , you will get total of RM280 rebate.
Every single ringgit you spent will earn 1 point. I think I will use about 3 years to collect 1000 points since I am not a heavy usage on phone calling. Averagely will spend approximately RM25-RM30 per month, so only RM300-RM360 annually. (US$95-US$115)
*Please take note, the points can be last for 3 years only, so you must redeem it within 3 years otherwise it will be forfeited.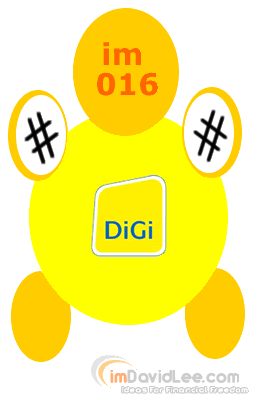 Besides that, if you are using subline then your Monthly Access Fee only RM10, but if you use credit card payment for auto billing then your Monthly Access Fee is deducted RM 10. Hence, I have no chance to pay my access fees. I just pay the amount of my phone usage only. Haha…
*For your info, those principle line user need to pay RM20, if use auto billing method then only pay RM10 per month.
Digi Postpaid Optimum Plan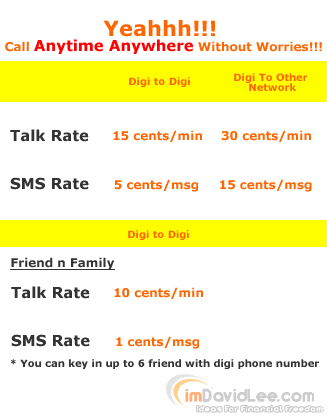 Actually, from the beginning, all is under my personal plan and self-control.
My prepaid credit balance will be automatically transferred to postpaid too and it will deduct all my remaining credit balance 1st. With my current balance, I no need to pay about 6 months phone bills prior to topping up a lots of money during my birthday!!! (Birthday topup will have extra 50% bonus) Haha… Good Tactics, right?
If you switch from Digi prepaid to postpaid just like me, then your Digi Friends & Family list will be reset, so you need to key in one by one again…It's good to prevent possibly system error.
Be sure that your phone contact is backed up properly and make sure it is copied into your phone memory after applied. Don't let yourself feel regret later !!!