Yesterday, I bought some necessity stuff from Supermarket and noticed that less people going to shop around recently even during promotion period. From that moment, I start realized the ripple effect of petrol hikes. I just wonder how's the future will be !!!
The increase in fuel will eventually force me to be calculative indeed. No choice!! As a middle-income earner, this petrol hike is just too much for me to think of. With all the stupid reasons given for the hike, it is still the public suffer a lot.
Being "A" Good Decision Maker For "A" Buyer…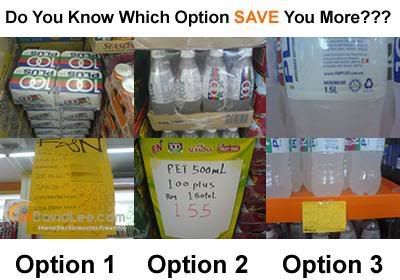 Today is totally different from the day before today !!! We should spend more time to do more comparison and price analysis of every single item.
For instance, when I go to buy 100Plus soft drink, I will take a few packing style as my consideration.
As a matter of fact, normally canned drink would cost you more if you calculate precisely.
If you plan to buy 1 box (24 Tin with 325ml each), it may cost you about MYR 28.90 nowadays…So, each tin will cost you about MYR 1.20.
So, 100ml yields MYR 0.36…
But if you buy 1 bottle (with 500ml), it may cost you about MYR 1.55.
Hence, 100ml yields MYR 0.31 only…
In fact, there may have another good option for you to decide. If you buy 1 bottle (with 1.5L, 1500ml), it may only cost you about MYR 2.50.
Thus, 100ml yields MYR 0.17 only…