As everybody known, Paypal is the most safest online payment method since it will not expose your credit card numbers and you just need to provide online merchant with your email address that you created to pay for your transaction or transfer your Paypal fund. There is no fee to join or open a Paypal account.
If you make money online, then you must have a PayPal account. Many corporate make use of its as it is a quick way to send and receive payments online. And, Paypal customers may transfer money to their regular bank account without any Paypal fees.
For your additional information, Paypal is a subsidiary of eBay, which is the one of largest companies on the Internet.
Types of Paypal Account
Basically, there are 3 types of different accounts you can sign up with Paypal:
Personal Paypal Account – this is for individual who use the Paypal account to purchase things online. You can receive money from Paypal instant transfer. There are no fees to receive money, and you will be charged only US$ 5 per withdrawal.
Premier/Business Paypal Account – If you are doing bigger transaction like selling goods online daily. Then it is advisable to create premier/ business account to lift up your monthly receiving limit. However, you need to pay some fees for receiving Paypal fund.
Easy Steps To Create Paypal Account
To create your Paypal account:
i) Sign up for an account by visiting the PayPal website and clicking the "Sign Up" link located at the left side of the page.
ii) Choose your country or region
iii) Choose your language
iv) Pick the Paypal Account type of your choice


v) Paypal will ask you to key in your credit card or debit card number. This is to deposit your money into your Paypal account. But you can skip this step and log in to your account by click the "Go to My Account" link. So, you can register your credit card later.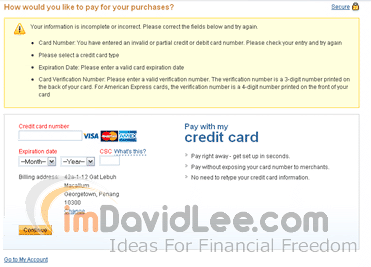 vi) Then, log in to your "Account Overview". To activate your Paypal account you have to click on the verification link on your email, which is sent by Paypal after sign up successfully.