Amanah Saham 1Malaysia (AS 1Malaysia), which is the largest fund currently will be opened for public subscription from 5th August – 3rd September 2009(30-day offer period). During the offer period, the AS 1Malaysia will not incur any sale charges.
Same as previous Amanah Saham Malaysia and Amanah Saham Wawasan 2020, the minimum initial investment for Amanah Saham 1Malaysia is 100 units while the minimum top up investment is one unit. It will be priced at RM1.00 per unit with a total fund size of 10 billion units.
Everybody knows how Amanah Saham works: Place in RM1,000 or so, and wait till the end of the year to get your "dividend". That's it.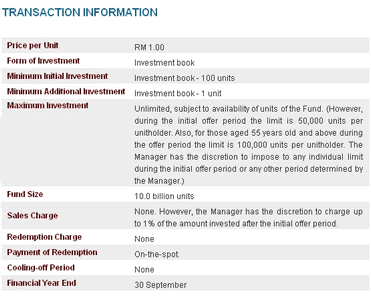 The units is subject to an allocation of:
– 50% for Bumiputeras
– 30% for Chinese (So, there will be 3 billions allocated for the Chinese)
– 15% for Indians
– 5% for other races.
Why Amanah Saham 1Malaysia is Launched?
Amanah Saham 1Malaysia is launched to stimulate the local stock market and other investment instruments so that the industry can pick up through new capital investment and provide more employment opportunities.
Where to Invest Amanah Saham 1Malaysia?
Investment in cash are available at:
– CIMB
– Maybank
– RHM
– Post Office (I suggest you to buy at post office because it opens at 8:30am while bank open 9:15am or 9:30am)
Comparison Between Amanah Saham 1Malaysia and ASM/ ASW2020