Streamyx has launched the latest promotion Cool Uni Pack since 1st of April 2010. This is great package for you to subscribe. If not mistaken, it is one of the highlight in our budget 2010 which provide affordable computer with internet connection for students who study in local university.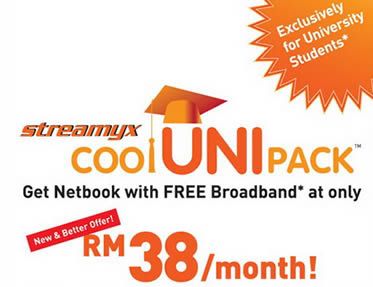 This new Cool Uni Pack only cost you as low as RM38 per month and it does not only offer broadband services at student price, but also offering a FREE HP Mini 210 netbook(market price at RM1299), FREE wireless modem and FREE Streamyx broadband Internet access at 384kbps for 2 years. At the same time, you will get the waiver of activation fee RM75 and installation fee RM88.
It's not necessary you must subscribe RM38 per month package; you can choose a list of these complete packages:
i) 384kbps unlimited broadband – RM38/month
ii) 512kbps unlimited broadband – RM53/month
iii) 1Mbps unlimited broadband – RM68/month
iv) 2Mbps unlimited broadband – RM83/month
v) 4Mbps unlimited broadband – RM88/month
How to Sign Up Streamyx Cool UNI Pack?