DiGi has launched its New DG30 Postpaid Plan. If you are looking for the lowest postpaid plan with zero access fees in Malaysia, then this is a smartest choice for you. The new postpaid plan has been launched since 19th May 2009 and it just replaces DG20 Postpaid Plan, which was their previous lowest DiGi Postpaid Plan.
DG30 Vs DG20 Postpaid Plan
Previously, DG20 Postpaid Plan was a subscription based plan whereby RM20 is charged for access fee and call usage are charged separately. Now with DG30 Postpaid Plan, the RM30/month is actually commitment that you can use.
Let us compare DG30 and DG20 to see the major differences: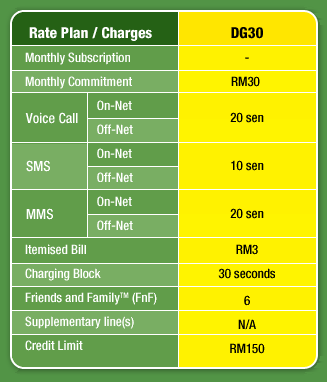 i. Zero Access Fee
DG20 Monthly Fee: RM20 (Access Fee = RM20, Talk Time Rebate = RM0)
DG30 Monthly Fee: RM30 (Access Fee = RM0, Talk Time Rebate = RM30)
ii. Lower SMS Rates
DG20 charges RM0.15/SMS
DG30 charges RM0.10/SMS, RM0.20/MMS
iii. Same Voice Call Rates
Both DG20 and DG30 charge RM0.20 per minute. As usual, calls are charged at 30 seconds block.
If you are still a DiGi Prepaid user and spend almost RM30/month, then it is a great time to switch DiGi prepaid plan to DiGi Postpaid Plan. You can enjoy better rates and only RM0.20/minute for all calls across all networks.
Limitation of DG30 Postpaid Plan