Maybank eFD provides convenient way for FD account holder to make Fixed Deposit placements online. All transactions are real time. But, there'll no certificate be issued.
So, if you are willing to open Maybank eFD, then you just login to Maybank2u.com. Click on Accounts & Banking and you will see Fixed Deposits. Then, click on Make an eFixed Deposit placement. Next, you can select eFixed Deposit type (Maybank Conventional Fixed Deposit or Maybank GIA Mudharabah or Murabahah Deposit Account MDA-i).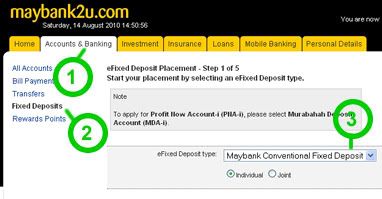 After that, please select term of your eFD. So there's 1 – 60 months.
Please make sure that know the FD rates before you do the placement so you won't feel regret later. So, below are the latest FD rates: