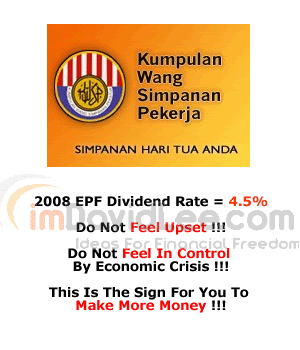 Employees Provident Fund (EPF) is going to declare only 4.5% dividends for the year of 2008.
I'm quite certain this will raise the dissatisfaction among working Malaysians who work hard for an honest living and will depend on the EPF after they retire from active work.
This is the clear fact that WE ARE IN AN ECONOMIC CRISIS?
However, if you look from different angle of views, this is the rate, which still put EPF at a high position globally when equity and trust funds are giving out insignificant returns on investments. For those who are in the banking sector, we all know that the bank fixed deposits is definitely not as much as EPF's returns.