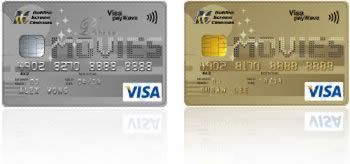 How frequent do you go to watch movie at Golden Screen Cinema? Sign up the GSC-EON Bank Credit Card; you can get 1 Free GSC Movie Ticket and small popcorn combo set upon approval. And, with GSC-EON Bank Credit Card, you can enjoy 10% discount when you purchase GSC movie tickets. For your information, tickets for adults under RM10 will get a 50-cent discount.
The movie tickets discount is as below,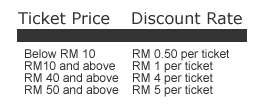 Besides, you can purchase the GSC Movie Tickets with hassle-free since you have the privilege for GSC outlets priority ticketing lane. So, you can skip the long queue in cinema during weekend. Save your time!!!
Furthermore, you will enjoy up to 15% discounts if you dine in at Glitters Café, Paradiso, Café Caro & Dessert Bar.
Weaknesses of GSC EON Bank Credit Card