Traditionally, we go to visit KWSP counter to check our Employees Provident Fund (EPF) balance or print annual EPF statement. But this is not so convenient for you, right? Do you know that you can check your EPF account balance through online?
With online EPF service, we can check our EPF account balance, print EPF statement with just single click on the online EPF account, or so called EPF "i-Account".

How To Apply EPF i-Account?
The process of how to apply EPF "i-Account" is quite simple, let me share with you:
i. Visit KWSP website http://www.kwsp.gov.my
ii. Click the "i-Account" button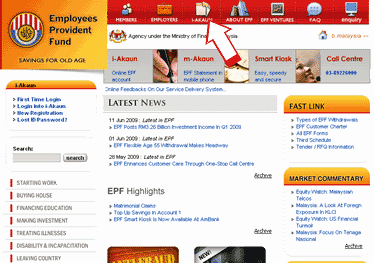 iii. Click "Register i-Akaun". Fill in EPF member number and your identity card number.


iv. Click "Register" button.

Next, you need to collect your "Activation Code" to activate it. So, you have to go visit the Smart Kiosks or counter to generate your Activation Code.
How To Collect EPF i-Account "Activation Code"?